Meet our partners: Hestasport
Many people think that it is not possible to ride in the winter due to the Icelandic weather. Hestasport is here to tell you otherwise.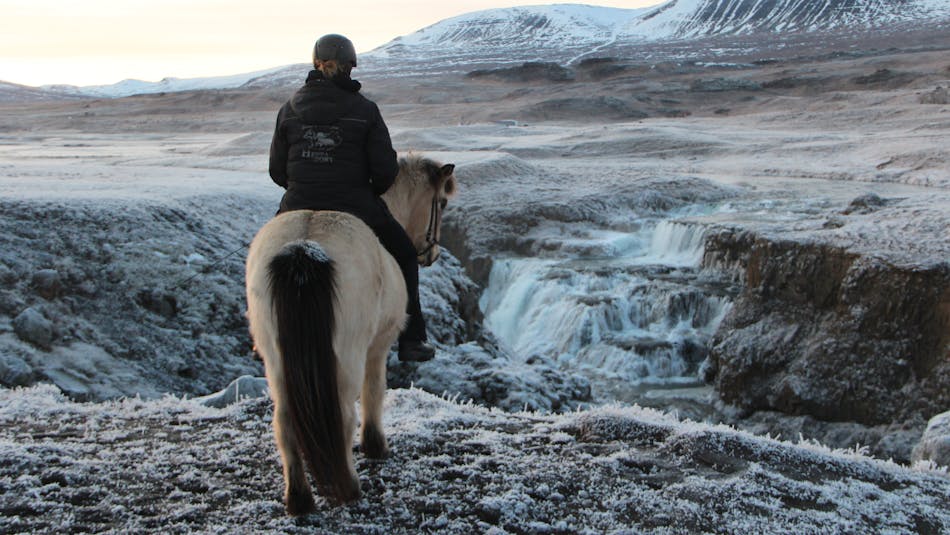 Welcome to

Hestasport

!
If you are looking for a unique Icelandic riding experience or scenic and well-equipped place to stay and enjoy the best of the Skagafjörður region, we are the right place!
We offer a wide variety of tours to suit everyone, along with the opportunity to stay in our beautiful cottages.
Surrounded by the beautiful landscape of Skagafjörður in the north of Iceland, Hestasport is one of the oldest and most experienced companies that offer multi-day riding tours in Iceland. Skagafjorður is rightfully named the valley of the horses. The fjord is known throughout Iceland for being the only region that has more horses than humans, as well as being where most of todays breeding originates from. We would argue that there is no better place to experience the mighty Icelandic horse.
We offer a wide variety of tours from 30 minutes, up to multi-day tours in the highlands with a herd of free running horses. With our experienced guides at your side, you can navigate river crossings, mountain climbs, tölting over smooth fields, and a visit to the scenic waterfall "Reykjafoss".
Our short riding tours are ideal to get a first impression of the Icelandic horse. We can't guarantee that you won't be back for more though! We enjoy seeing our guests discover this wonderful 5-gaited breed, try out their infamous tölt, and be inspired by their well-balanced character, compliance, strength and endurance.
Whether you are a first-time rider, a fanatical horse enthusiast or anything in between, we have the right tour for you. If your dream ride is not in our usual programs we are open to creating a customised experience suit to your individual needs and wishes. 
Our stables are located within Vindheimamelar´s old show grounds, a place famously known for hosting Landsmót – Iceland´s biggest horse competition. Even though they are not in use for competition any longer, you can still see the competition tracks around the stables.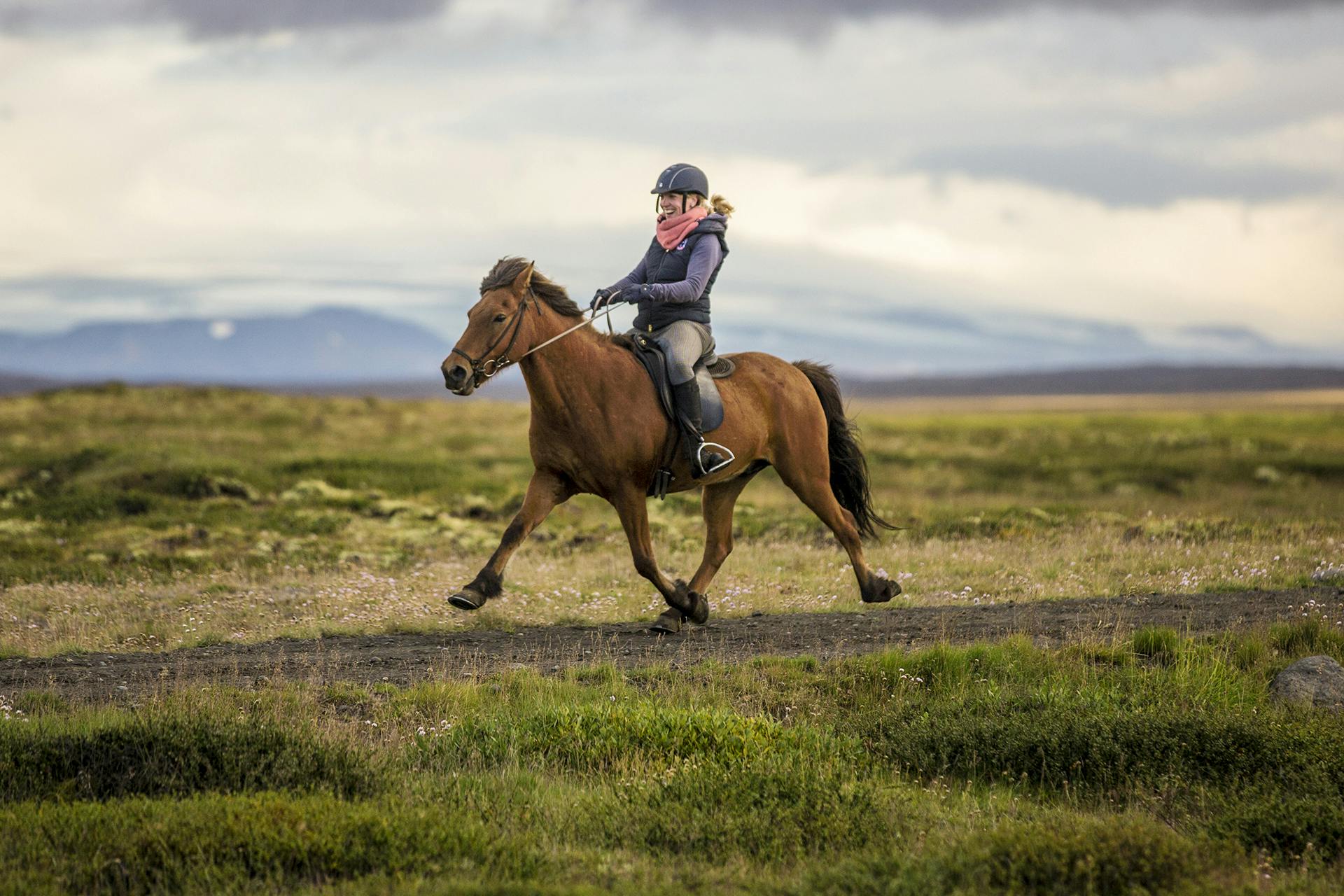 If you are an experienced rider, we encourage you to try out our ´Give me Five!´ program. This gives you the opportunity to tölt on this famous oval track and try your hand at the unique flying pace gait on the old race track. We are very proud of this one-of-a-kind program that is designed to demonstrate all 5 of the Icelandic horse´s unique gaits; walk, trot, gallop, tölt, and flying pace. Allow our well trained and kind natured horses to open your eyes to the true magnificence of this special breed. Our highly skilled riding teacher is there to guide you and give instruction about how to get the best out of your horse.
Here at Hestasport, we welcome you all year round and are happy to help you throughout your stay either on horseback or at our cottages.
As we are entering into the wonderfully unpredictable Icelandic winter, our horses are preparing their thick coats and getting fluffier every day. The landscape is changing and looks entirely different from during the summer. During winter, Skagafjordur is covered in a mesmerising layer of snow.
Many people think that it is not possible to ride in the winter due to the Icelandic weather. We are here to tell you otherwise, because riding in the snow is a very fun experience that will always hold a special place in your memories. There is something truly captivating about riding in the freshly fallen snow. Nature is sleeping, everything is silent, and all you can hear is the steps of your horse in the snow. It is a peaceful and magical experience that is like no other.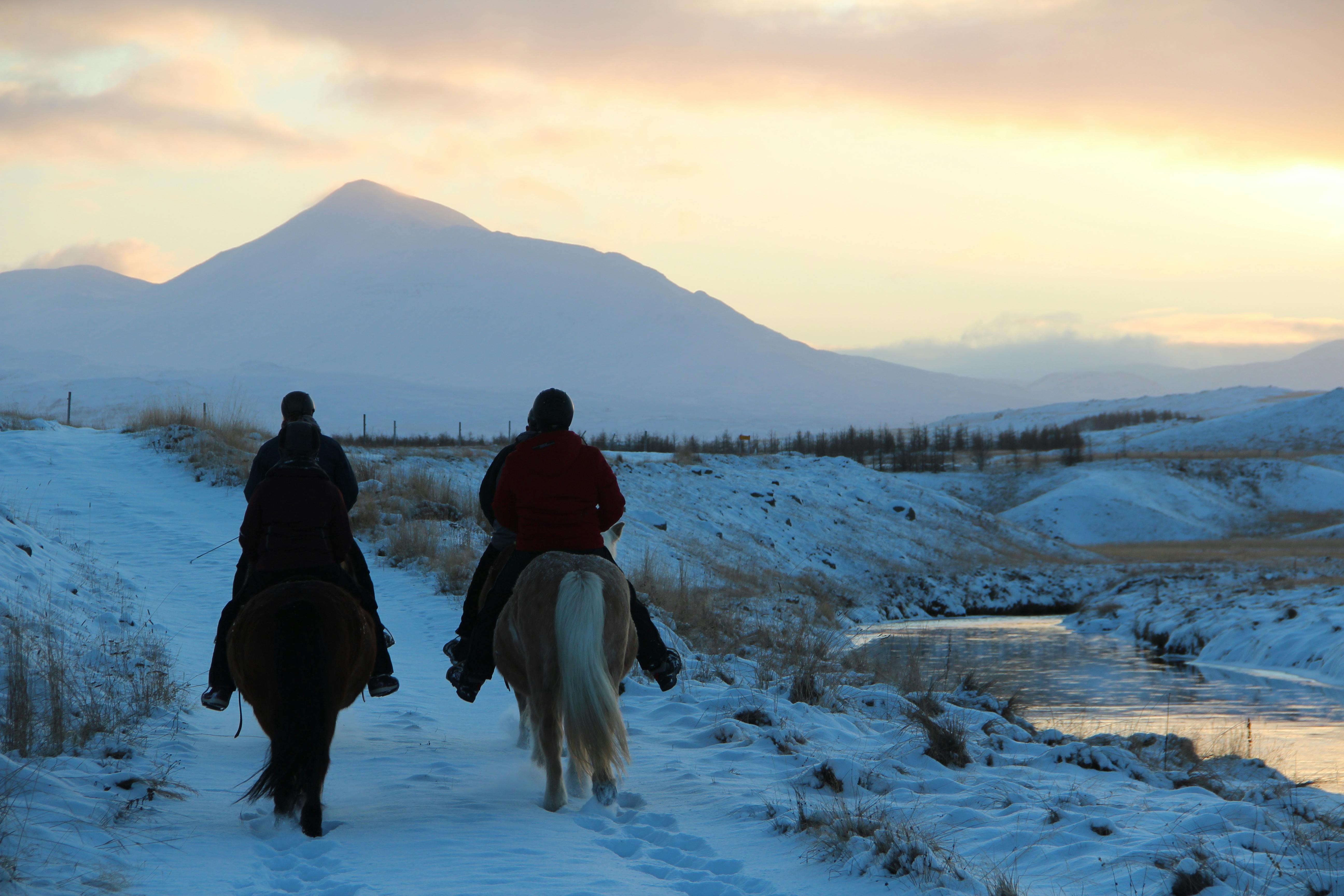 The Icelandic horses are incredibly sure-footed. But to help them do their jobs to the best of their abilities, we equip them with shiny new snow-shoes when winter sets in. The spikes on the snow-shoes protect them from injuring their hooves on the ice and prevent them from sliding when they walk over icy areas.
There is no need to be afraid of the cold as during the winter months we also equip you, our guests, with thick thermal overalls that will keep you warm and cosy whilst you enjoy your ride in the flawlessly white landscape. Let our horses safely carry you along the frozen trails leading to the majestic waterfall, Reykjafoss. The flat tops of the Tröllaskagi mountains looming on the horizon provide the perfect backdrop to your adventure. Take a minute to embrace the moment while watching the winter sun reflect on the thousands of icicles surrounding the falls.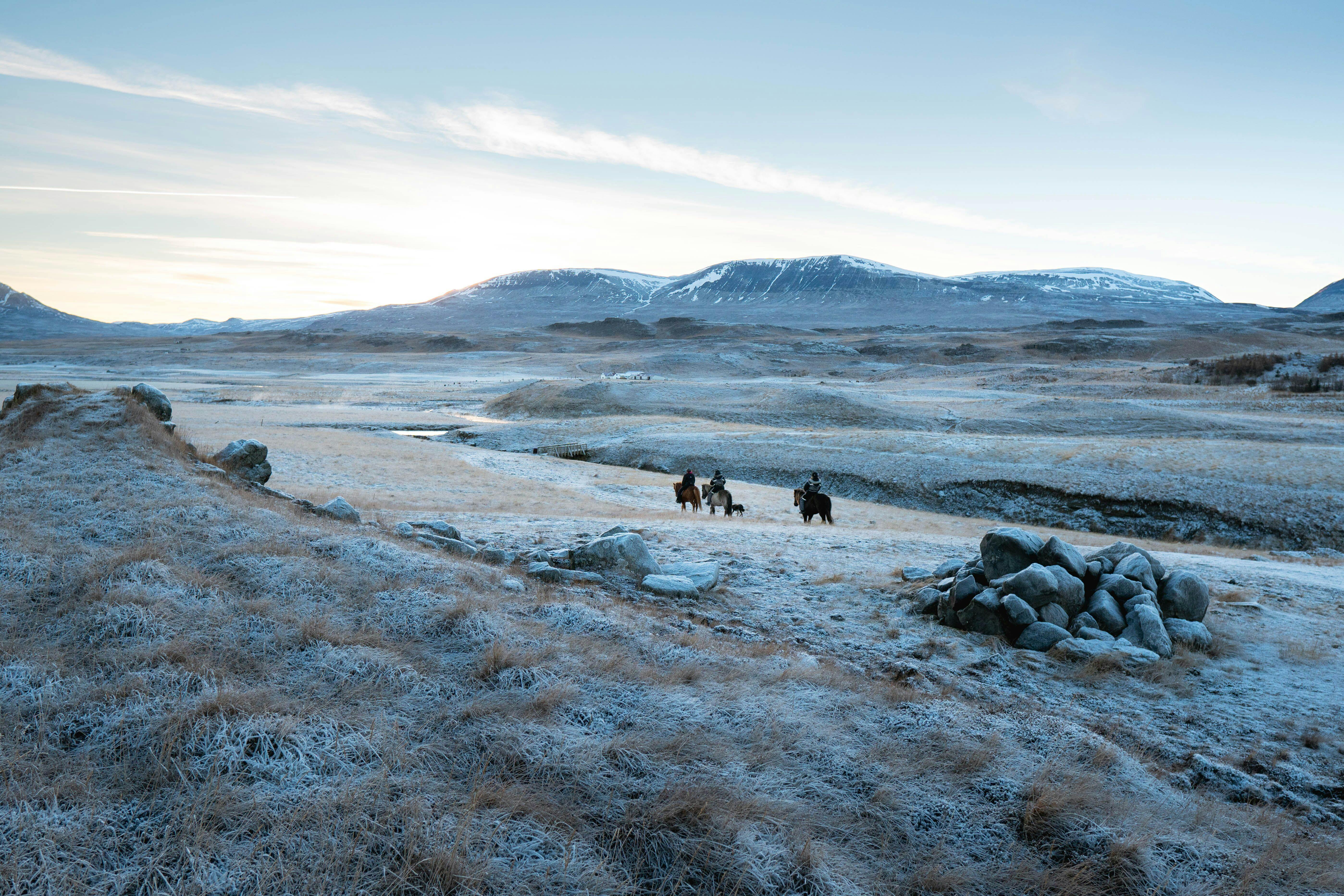 As well as horse riding tours, Hestasport offers cosy accomodations in the form of seven charming timber cottages. If you prefer not to ride and just wish to explore the area, you are always most welcome in our cottages. Should you not know where to start our knowledgable team are always willing to assist you in planning a section of your trip. A range of tours mean that you can fully enjoy the vast range of activities that the area has to offer. Whether it´s a fleeting visit or a longer stay, you can always take a dip in the private hot tub at the centre of the cottage location. This is the perfect spot for admiring the golden light of the midnight sun in summer, or for watching out for the wonders of the northern lights in the winter.
We hope to meet you soon and introduce you to our magical landscape and our even more magical horses!
The Hestasport team