Reykjavík Hoofbeats
Feel the pulse of the city as the hoofbeats of Icelandic horses set the rhythm for a mesmerizing downtown Reykjavík parade.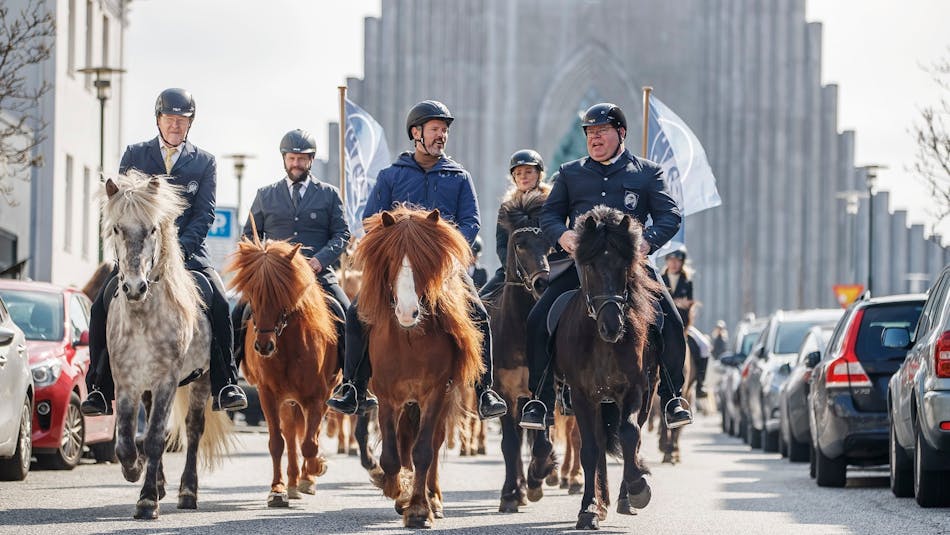 The Downtown Parade of the

Landssamband Hestamannafélaga

and Horses of Iceland will take place on Saturday, June 3rd, at 3:00 PM in downtown Reykjavík.
The parade will set off at the iconic Hallgrímskirkja and proceed along Skólavörðustígur, Bankastræti, and Lækjargata, painting the city with the rhythmic hoofbeats and graceful presence of these majestic Icelandic horses. The journey will then continue along Austurstræti, Pósthússtræti, and bring us to Austurvöllur.
At Austurvöllur, riders will dismount, allowing spectators to get close to the horses, pet them, take photos, and meet the riders of all ages.
A choir will be sing Icelandic songs and the Landsmót 2024 contract will be officialised.
After the stop, the parade will continue down Templarasgata, out Vonarstræti, along Tjörnin (the Pond), and then the horses will proceed to BSÍ, where the parade will conclude around 4:30 PM.
Landssamband Hestamannafélaga and Horses of Iceland encourage everyone to come with their families and friends to watch the horses and riders pass through downtown. We look forward to welcoming you!