Líflands' Champions League: what a season
The riders in Lífland's Champions League kept us on our toes right up until the end this year!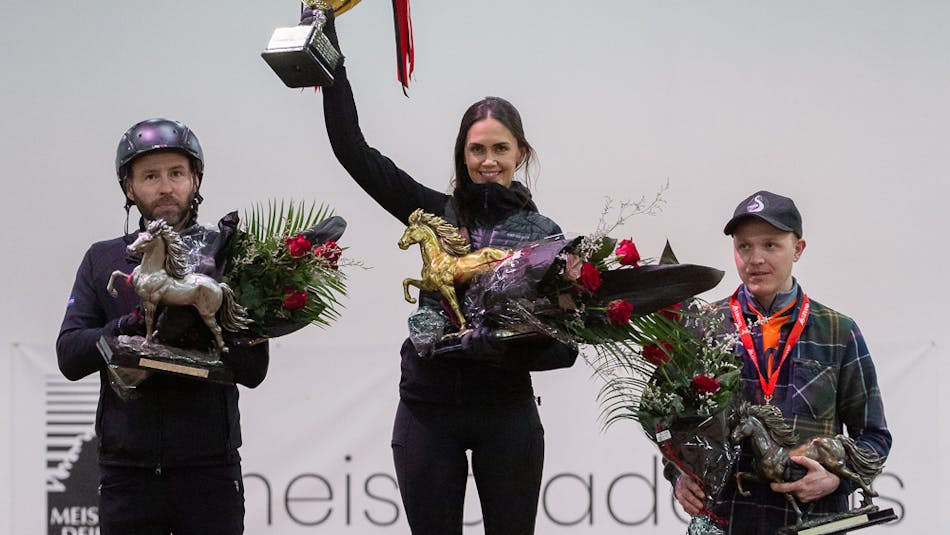 The riders in Lífland's Champions League kept us on our toes right up until the end this year!
For those of you who do not know how Meistaradeild Lífland works, a quick recap is available at the bottom of the page.
Last Friday, Árni Björn Pálsson had one more point than Aðalheiður Anna Guðjónsdóttir in the individual competition after winning the Tölt T1 with Kastanía frá Kvistum!
This meant that P2 (100m pace race) was to be an incredibly important test for both of them, where the fastest of the two would win this year's Champion title.
But here's where it got tricky: Konráð Valur Sveinsson was in first position with Kjarkur frá Árbæjarhjáleigu and Mette Manseth and Vivaldi frá Torfunesi were second. But regarding Aðalheiður Anna and Árni Björn, both of their best times were 5,66 seconds!
In this case, the second run is also looked at and Aðalheiður had the best time. She was then third and Árni Björn fourth. But this still left them tied in the individual competition with 39 points each.
The Champion's league organizers then had to look at how many medals each of them had earned through the season, and this is where things were decided: Aðalheiður Anna won two golds and one bronze medal, whereas Árni Björn 'only' won two gold medals, making her this year's Champion!
Then came the team results where team Hjarðartún was leading before the P2 test. However, following the test, team Top Reiter closed the gap and both teams had 366 points! Here again, organizers had to look at how many times team riders had been on the podium. This lead to team Top Reiter winning the team competition.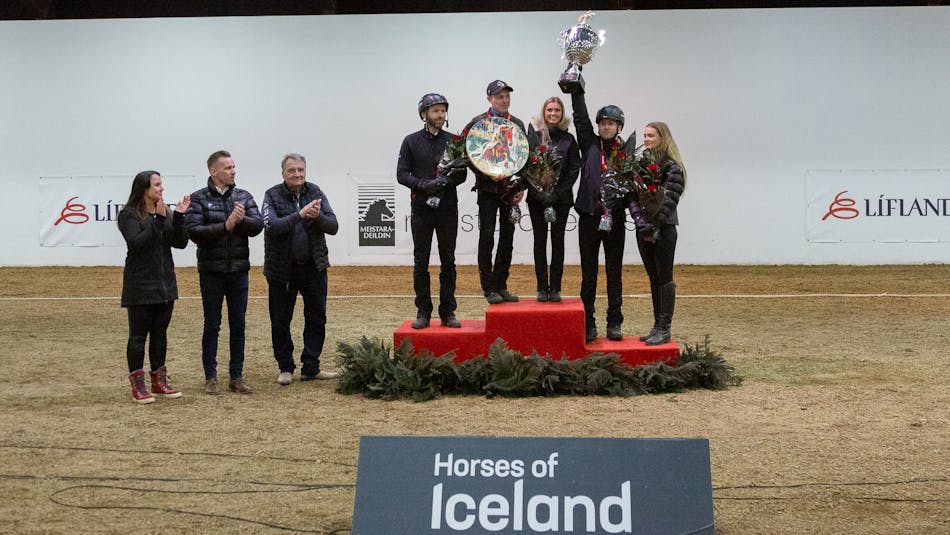 Horses of Iceland would like to congratulate all riders, team owners, Lífland and organizers for a great series of events this winter. We had a great time following those events and hope you did too.
How does Lífland's Champion's league work?
Up to 8 teams formed of 4 to 5 riders compete in the League. 8 tests are organised throughout the winter and each team selects 3 riders to participate in each test. Teams are allowed to use a so-called "wild card" once during the winter. They can then select a rider outside the team as third rider for that particular test.
For each test, the 10 best riders collect points for themselves and their teams in the following way:
1st place gives 12 points, 2nd place give 10 points, 3rd place gives 8 points, 4th place gives 7points, 5th place gives 6 points, 6th place gives 5 points, 7th place gives 4 points, 8th place gives 3 points, 9th place gives 2 points and 10th place gives 1 point.
The rider and team with the most points at the end of the season win.