Hoofbeats at the heart of the city
Around 60 riders and horses paraded through the streets of Reykjavík on June 3. - Photo: Louisa Hackl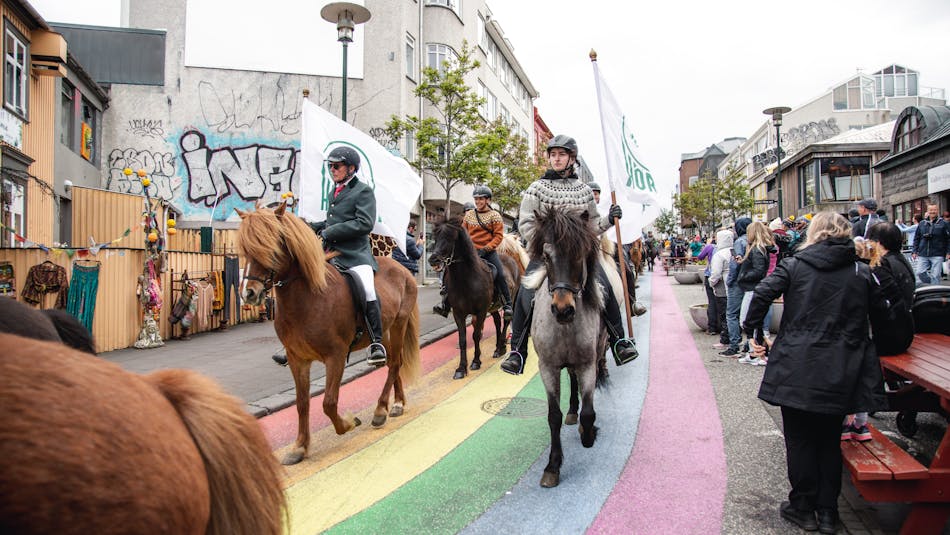 Here are some captivating pictures from last Saturday's Reykjavík Hoofbeats event, where a vibrant parade took place featuring about 60 horses and riders of all ages.
The festivities started at Hallgrímskirkja, where the choir "Raddbandafélagið" performed beautifully for the audience. Áslaug Arna Sigurbjörnsdóttir, Iceland's

Minister of Higher Education, Science and Innovation

, opened the celebration with a speech. Guðni Halldórsson, Chairman of

Landssamband Hestamannafélaga

then introduced Landsmót, Iceland's biggest competition and breeding event, which takes place biennially since 1950. Next year (2024),

Landsmót

will be held in Reykjavík and organised by two associations: Fákur and Sprettur.
Áslaug Arna and Guðni were then joined by Sigurbjön Bárðarson, Iceland's esteemed national team leader and the three of them led the parade as it weaved through downtown Reykjavík, bringing great joy and awe to the many onlookers.
Reykjavík Hoofbeats is a fabulous event which's primary goal is to raise awareness about the Icelandic horse and to commemorate the significant role these magnificent creatures have played in our country's rich history. While the Icelandic horse may no longer be our "most needed servant", its significance within Icelandic culture remains unwavering.
This event has now taken place yearly since 2016 (with a break during the pandemic) and  provides us Icelanders with a splendid opportunity to showcase our profound admiration for our extraordinary horses and to express our gratitude for their presence at our side. Every single rider in the parade takes tremendous pride in participating, eagerly displaying their horse to both fellow Icelanders and visitors from around the world, putting horsemanship in the limelight for a day.
Reykjavík hoofbeats is truly a way to showcase the happiness and wellbeing which emerges from being around horses, in the capital city of Iceland as in nature.
All the photos below were taken by Louisa Hackl