Meistaradeild KS' 2023 program
Meistaradeild KS is a series of competition taking place in the North of Iceland where teams as well as individual riders compete against each other.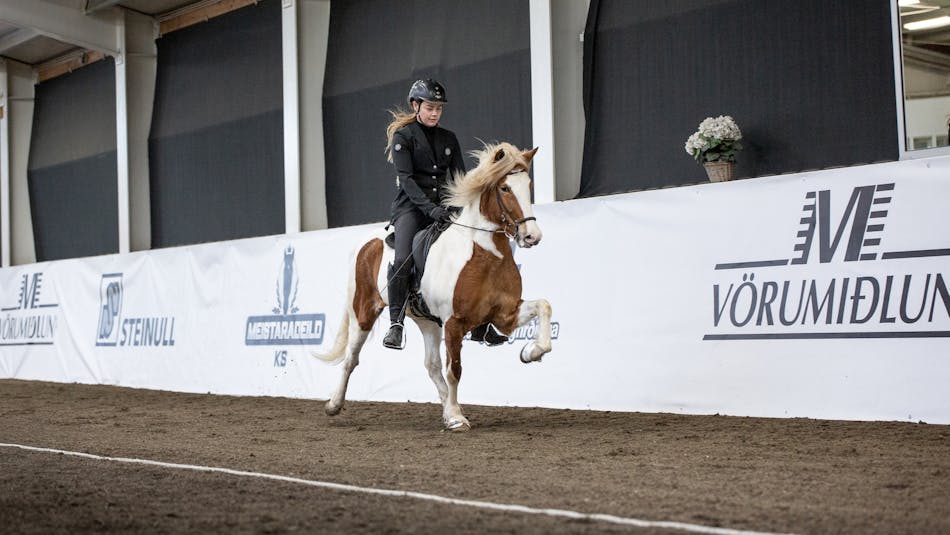 Meistaradeild KS starts tonight, 22 February! 
Meistaradeild KS is a competition where riders compete both individually and in teams. Eight teams are competing and each is composed of five riders. For each test, the teams select three riders to participate. Once during the season, each team can send a rider that is not in their team. This rider is called a "Secret guest".
This year, the teams competing are teams Þúfur, Uppsteypa, Storm Rider, Íbishóll, Hrímnir, Equinics, Eques and Dýraspítalinn Lögmannshlíð. 
For the past three years, riding master Mette Moe Mannseth has won the individual competition and last year team Leiknir Hestakerrur won the team competition (they will however not compete this year).
Below is this winter's agenda. All competitions will take place in the riding hall Svaðastaðir except for the outside pace which will be held in Hólar í Hjaltadal on April 20. All events will be streamed live on Alendis.
 
Please note all hours are on local Icelandic time (UTC±00:00).
Gæðingalist – Wednesday, 22 February, 6pm 
V1 Fourgait – Wednesay, 8 March, 7pm
F1 Fivegait – Friday 17 March, 7pm 
T2 Loose rein tölt – Wednesday, 5 April, 7pm
150m & PP1 – Thursday, 20 April, 1pm 
Tölt & P2 through the riding hall– Friday, 28 April, 6.30pm