Body weight ratio between horse and rider study at the World Championships
A researcher group at the Department of Equine Science of Hólar University, led by PhD. Guðrún Jóhanna Stefánsdóttir has a great interest in collecting data on body weight ratio (BWR) between rider and horse of the Icelandic horse.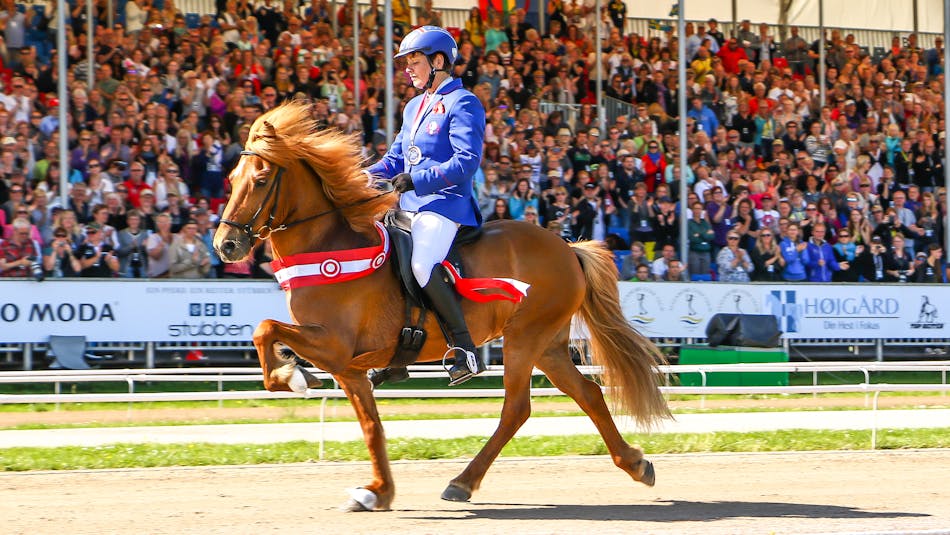 As we all know, the term social license to operate (SLO) is now being discussed widely within the international horse industry regarding use of horses as a sport and companion animal in general. SLO can be described as the acceptance or approval of the public of an activity/industry.
Regarding the Icelandic horse there has been an ongoing discussion in the media concerning BWR as it is a rather small riding horse. The breed has a very long history as a riding horse for both adults and children and over a long-term breeding the Icelandic horse has been selected for gait performance while carrying a rider, i.e. for its weight carrying ability.
It is also common for Icelandic riding and competition horses to reach high age, which reflects longevity of the breed, despite often intense use as a riding horse.
Tradition and empirical data alone, are no longer a sufficient argument to justify the use of the Icelandic horse for riding. Scientific data are needed to confront the ongoing animal welfare debate, concerning whether horses should be ridden and how much weight an Icelandic horse should carry.
Hólar University and FEIF are convinced that objective measurements of the BWR and estimation of its relationship to performance, welfare, health and longevity are of major importance for a knowledgeable discussion on the use of the Icelandic horse in near future.
Hólar University

and

FEIF

suggest Team Leaders, Trainers and Riders of all national teams join forces in this project and encourage as many riders as possible to participate during the Friday-Sunday (4th-6th of August) before the competition begins at the World Championships.
They are asking riders to voluntarily participate in the study by giving them 10-15 minutes of their time to:
Bring their horses and saddles to a private area near the training oval track to be weighed and
measured as can be seen

in this video

Complete a short questionnaire about their horse's training, competition and health history.
All data will be treated as confidential information and analyzed as such, worked on as group data but not on an individual basis. There will be no possibility to relate data to personals in presentation of the results e.g. in thesis, posters/presentations, scientific papers, articles for the public.
The data collected will be used to answer the following research questions:
What is the weight of riders of Icelandic horses at highest level in competition?
What is the weight and body condition score of Icelandic horses competing at highest level in competition?
What is the body weight ratio (BWR) between rider and horse, at highest level in competition on Icelandic horses?
Is there a relationship between BWR and performance/scores/results of the horses at WC?
What is the background of Icelandic horses competing at World Championship, that is:
a) how old (age)
b) information on training background (e.g. number of years in training, intensity like how many times per week, how many months per year in training, weight of trainers -if possible to collect information on)
c) information on competition experience of the horses, years in competition, number of competitions, number of world championships, results in earlier competition
d) information on health of the horse, e.g. history of lameness, back-problems
What is the size (body measurements) of Icelandic horses competing at highest level in competition and is it connected to performance results?
It is extremely important to promote, enable and help scientific research regarding the use of the Icelandic horse. Horses of Iceland applauds and supports this study and hopes that most if not all national team riders will participate.